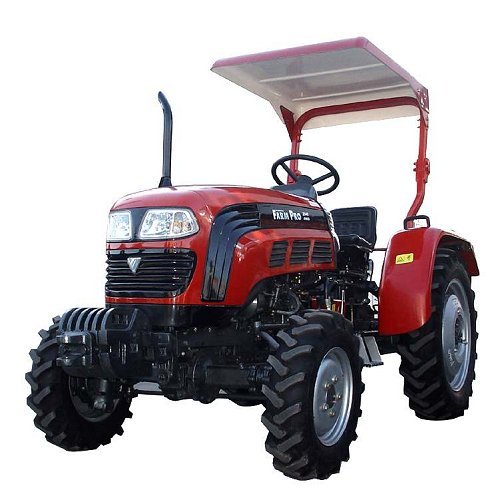 FARMPRO TRACTOR PARTS
If we do not have your FarmPro Tractor Parts in stock, we can get them for you.
Call us today at - 1-866-765-0110 to get all your FarmPro Tractor Parts.
***Call for prices and availability***
We stock a large inventory of parts for Chinese built tractors
Not all items are listed online contact us today for a complete list of parts and availability
ORDERING TIPS
We stock a large inventory of FarmPro tractor parts. Not all parts are listed on our site so if you don't find what you are looking for, call us at 1-866-765-0110 we love to help!
Ordering parts for your FarmPro tractor can be easy if you have the information needed to ensure you will get the correct parts. This should help you get started.
First Get the information off tags that are located on your tractor. Make, Model, year. This will help in locating the right parts for your tractor.
Second - Get the information off the tag on the engine. This can be found on or near the valve cover. These tractors were imported with different engine manufacturers. We are unable to determine what engine you have based on tractor model alone.
Third - If you need pumps or a starter for your FarmPro Tractor each item will have a part number stamped right into the pump itself. Sometimes this will be hard to see so if you can't read it we will have to determine the pump you have based on port and shaft size. Most of the starters are straight forward but we have learned to put nothing past FarmPro when it comes to consistency. If you are not able to read the QD number off your starter we will need engine model information and possible starter dimensions. We have been doing this for a really long time so you are in good hands!
Fourth - We have the experience to help you get the right part. While parts are often straight forward we have recognized possible differences in styles and we will work with you to make sure you get the right parts the first time. When you notice a part that needs to be replaced the best thing you can do is get as much information about the item as possible. A parts manual is a must to ensure you are ordering and communicating to us the correct information.
Some examples of parts differences that can be found on your FarmPro Tractor:
Clutch - For the 20 - 28 hp tractors - 8" 3 finger, 8" 6 finger, 9" 3 finger - The only way to determine what clutch you have is to measure the disc.
Fuel sediment bowl - with nut or without nut - The only way to determine this is to physically check your current sediment bowl for a nut that would be located where the assembly screws into the tank.
Filters - The engine manufacturers have been known to change the filter housing. To determine what filter you need to get the number off the current filter. If you can't locate a number we will need the dimensions. We have uploaded most of filters we carry along with their dimensions in the filter section. Check it out at http://asiantractorparts.com/t/filters
Gear pumps- Shaft size and port locations may vary
Tie Rod Ends - Do not assume that because it is on the right side that it is a right-hand thread. Same with the left side. Often the Tie Rod itself has been rotated in production, therefore the thread direction is different. Confirm you are ordering the correct thread direction…. Left or Right.
Front Axle- Depending on the year of your tractor the front axle shaft has been upgraded and a replacement kit is now available and will be needed to replace this shaft. - To determine if you need the replacement kit we will need to know the date of manufacturing of your tractor.
Fuel tank - There are different styles of in fuel tanks, to confirm which tank you need call us at 1-866-765-0110
Fuel cap - There are 4 different styles of fuel cap - 2 prong, 3 prong and screw on (male or female), as well as different sizes. Make sure you give us exactly what you need.
Fuel Line - These can often be tricky with different ends and size. Call us with as much information about your fuel lines as possible to ensure you are getting the correct line.
Door Glass - While part numbers are available for the glass pieces, styles have changed and the part numbers have remained the same. For all glass orders, we need dimensions….: Across theTop, across the Middle, across the bottom and total overall height.
Pumps - Each pump will have a number plate identifying it. For gear/hydraulic pumps the numbers usually start CBN xxxx or CBJ xxxx. Sometimes this can be hard to read. If you can't read the number we will have to determine the part based on physical componence. Such as shaft size and type, how many and where are the ports located. Also, how does the pump mount onto the tractor - With or without flange.
Starter - The number usually start QD xxxx or QDJ xxx. If your starter doesn't have a QD number we will need the engine information and possibly starter physical componence such as the number of teeth, center to center bolt hole measurements, cone size. We have been doing this for a long time so we will help you through this.
If we do not have the part you need, in stock, we can bring it in direct for the factor! Give us a call today!
1-866-765-0110
FarmPro Models
FarmPro 2010 - FP2010, FarmPro 2420 - FP2420, FarmPro 2425 - FP2425, Farm Pro 2430 - FP2430, FarmPro 2435- FP2435, FarmPro 2440 - FP2440, FarmPro 2530- FP2530, Farm Pro 4020 - FP4020
WHAT ARE FARMPRO TRACTORS
Huanghai jinma 16?18?20?25?30?35?40?45?50?55?60?65?70?75?80?85?90?95?100?120?125HP two-wheeled and four- wheeled tractors are series tractors which feature large tractive force, low fuel consumption, varied functions and easy operation, wide application and reliability. The tractors are suitable for dry land, hilly land, vegetable farm, orchard, garden and other kind of land. And what's more, they are the ideal vehicle for transportation. Hydraulic steering, driving cab, roll over protection structure, turf tire and industrial tire can be chosen as options to fit on the Huanghai FarmPro series tractors, Huanghai FarmPro series tractors honorably won the Excellent Product Prize awarded by the government of PRC, and also won gold medal in international Fairs, the products were approved by OECD, parts of Huanghai FarmPro series had already got the approval as well. Our series products are sold to more than 100 countries and areas in five continents.